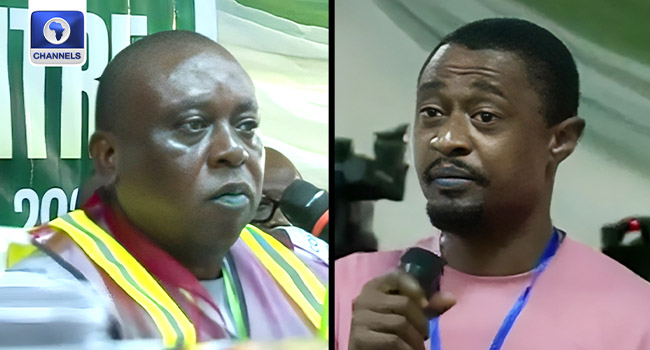 The otherwise smooth collation exercise of the governorship election in Kogi State on Sunday took a dramatic turn when the State Returning Officer, Prof Johnson Urama, threatened to use his statutory powers to "remove" the state Secretary of the Social Democratic Party (SDP) for disrupting the process.
Urama gave the stern warning after the SDP official, who did not give his name, gave his assessment of the results announced for the Okene Local Government Area (LGA), which had just been read out.
Once the SDP secretary introduced himself, the Returning Officer said, "I thought it was one party agent per [party]… There is somebody representing your party here."
The party official retorted that though his colleague had spoken, he had "observed something that he probably has not seen."
Describing the figures read out as "a doctored result," the SDP secretary alleged that the results had been made known to the party "since yesterday," adding that it was on the INEC Results Viewing Portal (IReV).
"I want to understand why the result was changed now. Why should the result be changed now? My party has been manipulated up until this point in time," he said.
But Urama maintained that the SDP stalwart was not permitted to speak and was at risk of being thrown our.
"Secretary of SDP, you know I have the powers to remove anybody trying to disrupt this. Don't push me to use those powers. You have an agent here and he has spoken," he said.
The incident came hours after a Labour Party (LP) agent in Imo State, Calistus Ihejiagwa, was beaten and bundled out of the Imo State Collation Centre in Owerri, the state capital.