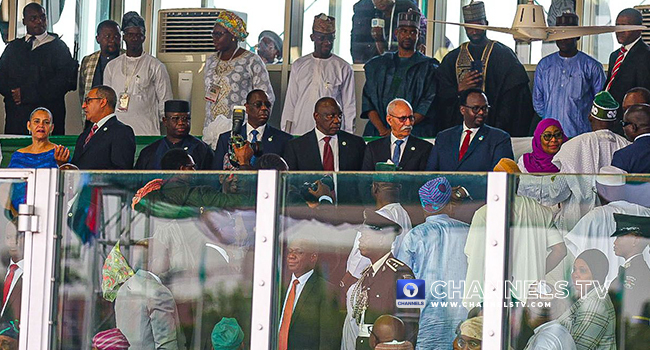 The Chief Justice of Nigeria, Justice Olukayode Ariwoola administered the oath of office to Bola Tinubu and his deputy, Kashim Shettima at exactly 10:28am and 10:38am respectively.
After a grueling electioneering process that spanned months, Nigeria now has a new President and Commander-in-Chief of the Armed Forces who will steer the ship of the country for the next four years.
Tinubu, a former Lagos State Governor, was inaugurated as Nigeria's 16th President on Monday, May 29 at the Eagle Square in the nation's capital city, Abuja.
The Chief Justice of Nigeria, Justice Olukayode Ariwoola administered the oath of office to Tinubu and his deputy, Kashim Shettima at exactly 10:28am and 10:38am respectively.
"I, Bola Ahmed Tinubu, do solemnly swear that I will be faithful and bear true allegiance to the Federal Republic of Nigeria that I will preserve, protect and defend the constitution of the Federal Republic of Nigeria. So, help me, God," the new President swore.
Majestic parade by smartly dressed members of the Armed Forces preceded the oath-taking and swearing in ceremony which was witnessed by Tinubu's predecessors including Muhammadu Buhari and Goodluck Jonathan.
Tinubu's wife, Remi; Shettima's wife, Nana as well as Buhari's wife, Aisha also witnessed the oath-taking ceremony.
African Leaders Honour Tinubu
African leaders who witnessed the historic event at the venue beautifully decorated with the green-white-green colours of the nation were the new Prime Minister of Gabon, Billy By-Nze, President of the Republic of Cote D'Ivoire, Alassane Ouattara; Ghana President, Nana Akufo-Addo; and Rwanda President, Paul Kagame.
Also at the venue of the inauguration ground were dignitaries including Akinwumi Adesina, Aliko Dangote, Femi Otedola, Abdulsamad Rabiu, and Jim Ovia.
Others present include service chiefs, heads of security agencies, governors, former governors, serving and former ministers as well as chieftains of the All Progressives Congress (APC).
Days earlier, Buhari showed Tinubu around the Aso Villa, Nigeria's presidential residence while Osinbajo took Shettima on a tour of the Vice President wing of the Villa also known as the Aso Rock.
Also, Tinubu had on Thursday received transition documents from Buhari ahead of the May 29 inauguration just as Buhari conferred the national honours of Grand Commander of the Federal Republic (GCFR) and Grand Commander of the Order of Niger (GCON) on Tinubu and Shettima respectively.
Expectations & Promises
With rising unemployment, soaring inflation, wobbling forex exchange rate, worsening insecurity, amongst Nigeria's hydra-headed and multifarious challenges, over 200 million Nigerians expect a lot from President Tinubu.
Tinubu, who based his campaign on an 80-page manifesto which highlights an eight-point agenda, promised to be fair to all Nigerians.
During inauguration address at the Eagle Square on Monday, Tinubu vowed to rid Nigeria of terrorism and criminality.
"Security shall be top of our administration," he said, adding that he will reform security architecture, invest more in security personnel, better training and provide better equipment for security personnel.
He also promised to remodel the economy to bring about growth as well as develop the Gross Domestic Product through job creation. The new President said he will end extreme poverty, make food more abundant, ensure inclusion for women and youths and discourage corruption.
Meet Nigeria's New First Lady
Remi Tinubu is a cleric with the Redeemed Christian Church of God (RCCG) and served as the First Lady of Lagos State between 1999 and 2007.
A lawmaker, Remi represents Lagos Central in the Senate, a position she still occupies.
An advocate of state police, she got into the National Assembly in 2011 and is one of the few women in the red chamber.
Her husband's ascension to power, however, may change the whole dynamics, a fact the president re-echoed at a public event.
"To my lovely wife, Oluremi Tinubu, you the senators don't expect her back, she's going to be my housewife and the First Lady," the president said in earlier in the year.
Born on September 21, 1960, Remi TInubu was first a teacher before venturing into politiics. She obtained her National Certificate in Education (NCE) at the Adeyemi College of Education in Ondo State.
The author of The Journey of Grace – My Faith Walk, later proceeded to the Obafemi Awolowo University, Ife, and bagged a Biology Education degree.
Her marriage with the President is blessed with children.
The wife of the President was the youngest of 12 children born to an Itsekiri mother and a Yoruba father. She grew up in Ogun State in Nigeria's South-West region.
Nana Shettima
The Nigerian second lady as the wife of the vice president is called was born on July 22, 1975, in Kano State and had previously served as the First Lady of Borno State from 2011 to 2019.
Nana is the CEO of the Support for Widows, Orphans and Tsangaya Foundation and Model Orphanage Integrated School, Maiduguri, Borno State.
Married to Shettima in 1988, the second lady earned a degree in English and Literature at the University of Maiduguri.
She is best known for her humanitarian works which have gotten her plenty of accolades. The VP's wife is a Kanuri by tribe.
Tinubu's Long Walk To Aso Rock
With the baton about to be passed to Tinubu in a matter of hours, the former Lagos State governor would remember how he first declared his "lifelong presidential ambition" right in the same Aso Rock on January 10, 2022, during a visit to Buhari.
Tinubu's walk to victory was without thorns as the APC powerbroker had to negotiate many slippery bends and contend many battles within and outside the APC.
To earn his party's ticket for the race, he had to contend with heavyweights and partymen such as Vice-President Yemi Osinbajo, Senate President Ahmad Lawan and former Transportation Minister, Rotimi Amaechi, among others to win his party's ticket. It took a strategic alliance with northern governors of states historically known for high voter numerical strengths including Kano, Jigawa, Sokoto, and Plateau, among others for him to defeat Amaechi and Osinbajo.
After the primary, being a Muslim, his choice of Shettima, another Muslim and former governor of Borno State, sparked outrage and drew strong criticism.
Questions about his health were constant throughout the campaign and there were allegations of crime and corruption, claims which he and his team repeatedly denied.
Frustrated with the seeming lack of support from the President and reported opposition by key members of the Presidency, he would go on to make his now famous "Emi lo kan (It is my turn)" speech on June 2, 2022.
"It is the turn of Yoruba, it is my turn," he said while addressing party delegates at the Presidential Lodge in Abeokuta, Ogun State.
In the speech, he narrated how Buhari lost presidential elections repeatedly until he (Tinubu) helped him to win in 2015. He would later issue a statement declaring his respect for the President.
When the Naira redesign policy led to scarcity of the currency and outrage and protests by citizens, it was three APC governors, including Nasir El-Rufai of Kaduna and Yahaya Bello of Kogi that sued the Federal Government, seeking to prevent the full implementation of the policy.
At the poll, Tinubu came out tops in 12 of Nigeria's 36 states and secured significant numbers in several other states to claim the highest number of votes — 8,794,726, almost two million votes more than his closest rival — former Vice President Atiku Abubakar of the Peoples Democratic Party (PDP).
Abubakar, 76, who has now run for president six times, got 6,984,520 votes, while the candidate of the Labour Party (LP), Peter Obi, who, in less than a year, galvanised young voters in a manner some have described as unprecedented finished the race with 6,101,533.
Both Atiku and Obi are in court challenging the victory of Tinubu and his declaration as the winner by the Independent National Electoral Commission.